site web

français (1)
I am also grateful to Julianna Lees &nbsp &nbsp(www.green-man-of-cercles.org),
Tina Negus &nbsp &nbsp(http://www.flickr.com/photos/[email protected]/sets/72157600159376057/),
John Harding &nbsp &nbsp(www.sheelanagig.org),
Sean Breadin, photographer
Joël Jalladeau and Jacques Martin &nbsp &nbsp(http://jalladeauj.fr/modillonsbis/styled/index.html),
for several important photos on these pages, which have been expanded from the website
http://www.beyond-the-pale.org.uk.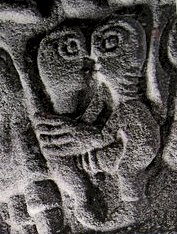 'Prudery is the worst form of Avarice'
Stendhal
'La pruderie est une espèce d'avarice, la pire de toutes'
This site emits no cookies.

"Absolutely wonderful !
Years ago I read Images of Lust and was delighted by this new world, strangely absent from many histories of eroticism, art and culture in general. This [website] is really illuminating and sets high standards for websites."
- Antonio Dominguez Leiva, Reader in comparative literature at the University of Burgundy, Dijon.
sheela-na-gigs
updated June 2021