Acrobats, Contortionists and Dancers – non-exhibitionist
Acrobat – exhibitionist, female feet-to-ears atlante
Acrobat – exhibitionist, megaphallic male
Actor holding a mask, Châteauneuf-sur-Saône,
an extremely rare motif.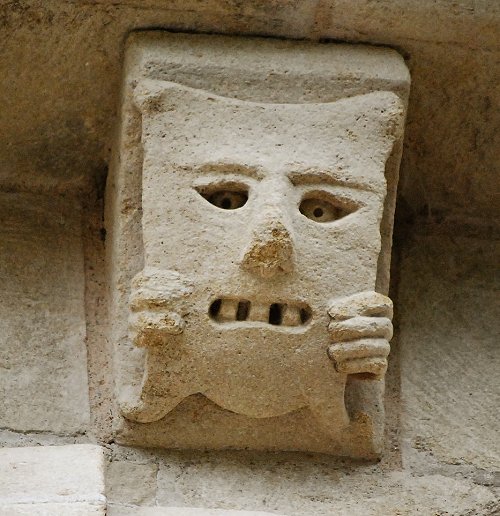 Adultery – included in Concupiscentia (below)
Anger – inter-male strife

Animals – ape (bears and dogs occur occasionally)
Atlante (Atlas-figure, non-exhibitionist, symbolism obscure)
Blasphemy is evident in such images as that of a (gluttonous ?) beast holding a Host.
Corbels in context in a rural church
Coupling couples (Concupiscentia)
Couples – groping
Couple – kissing
Drunkenness does not feature as an important sin.
Figures holding what appear to be barrels are, in fact,
blowing the Dolio which was much more reprehensible,
because music led to dancing and dancing led to sex.
This Asturian corbel, however, may have a sexual implication.
Female exhibitionist squatter
Gluttony is another very rare motif, because the population
targeted by exterior church sculptures had little possibility of committing it.
Figures eating a round cake, as at Lunac, might represent priests
blasphemously eating the Host.
On the other hand, Column-swallowers are known as Gloutons in French...
Homosexuality (non-penetrative) between monks has been a perennial monastic 'problem'.

Male genitals
Male masturbating (rather glumly)
Male megaphallic (also a mouthpuller)
Sodomy (anal penetration)
Thornpullers (male and female)
Tongue-puller/poker male and female

PLEASE REPORT FAILED LINKS TO

This site delivers no cookies, and has been empowered by FloatBox